The Conférence des Directeurs is the senior management team of the Foundation. Each member has delegated responsibility for specific aspects of the Foundation and for the operation of its seven schools, for the coordination of policies and practices, for the management of associated staff and students, for relations with parents and for planning, budgeting and expenditure.
Members of the Conférence des Directeurs
Conrad Hughes
Director General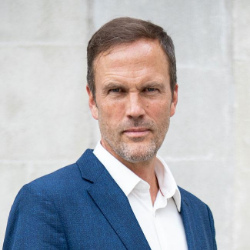 Of joint South African and British nationality, Dr Conrad Hughes holds a Masters in Comparative Literature and a Diplome d'Etudes Avancées from Montpellier, a PhD in English from the University of the Witwatersrand in South Africa and a Doctorate in Education (EdD) from Durham University's School of Education.
Following roles as a university lecturer in English and an English teacher and diploma programme coordinator in schools in India and the Netherlands, Conrad has been at Ecolint for many years, first as an English and Theory of Knowledge teacher, then as Director of Education, prior to taking up the role of Campus Principal at La Grande Boissière in 2015.
During his tenure as Director of Education, Conrad had numerous articles published on a variety of topics including the IB Middle Years Programme, the Theory of Knowledge component of the IB Diploma, child-centred pedagogy, the role of education in combating prejudice and the English syllabus for the IB Diploma. Conrad also led the work to articulate the Guiding Principles for Learning in the 21st Century which was jointly published with UNESCO in 2014. His published books include Understanding Prejudice and Education: the Challenge for Future Generations (Routledge) and Educating for the 21st Century: Seven Global Challenges (Brill).
Married, with two children who both attended Ecolint, Conrad is an accomplished guitarist and singer-songwriter, and is a volunteer Sapeur Pompier in the Compagnie 101 (Dardagny-Russin).
---
Hazel Allen
Interim Primary School Principal – La Châtaigneraie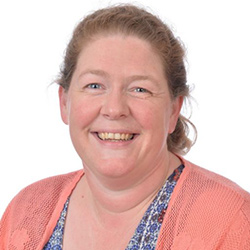 Hazel Allen, who originates from Northern Ireland, has a distinguished track record in primary school leadership: before becoming Assistant Principal at La Châtaigneraie Primary School, she was Head of Primary at the International School of Central Switzerland and Head of Studies at John F. Kennedy International School, Saanen.
Hazel has a Bachelor's degree in French and Spanish from Queen's University Belfast and a Post-Graduate Certificate of Education from the University of Paisley, and is currently completing a Masters in Education at Oxford Brookes University and working towards a coaching certification. Fluent in English, French, Spanish, Hazel's research interests centre on bilingual education and multilingual pedagogy.
Passionate about music, Hazel enjoys playing piano and singing in La Châtaigneraie's Community Choir, and she is a keen amateur photographer.
---
Alix de Mauny
Director of Development and Alumni Relations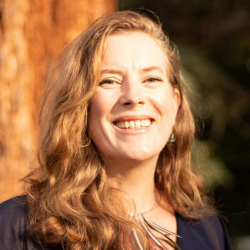 Alix de Mauny is a British and Irish dual national who joined Ecolint as Director of Development and Alumni Relations in November 2022 from the Yehudi Menuhin School in the UK, where she served as Director of External Relations. Prior to that Alix's career saw her working across the globe, including in Israel, Rwanda, Colombia, Belgium and Kosovo, in roles spanning international relations and humanitarian roles and a spell as Development and Marketing Manager for the European Union Youth Orchestra.
Passionate about the art and science of philanthropy, and with thirteen years experience as a fundraiser, Alix is a member of the Chartered Institute of Fundraising, and as well as a Diploma in Fundraising holds an MA (Hons) in Italian from Edinburgh University and a Masters in Public Administration from the Kennedy School of Government at Harvard University.
Fluent in English, French, Spanish and Italian, Alix is also a passionate musician, singing in both the Bach Choir and Damian Singers in the UK, and has a wide range of other hobbies which include cooking for friends and her French partner, walking, yoga, reading, skiing, horse riding, windsurfing and competing in triathlons! Despite this plethora of pastimes, Alix still found time to serve as a Trustee of Streetwise Opera, an award-winning arts organisation, and volunteered both as a mentor and conference organiser for the Culture Sector Network of the Institute of Fundraising. 
---
Gilbert Ekotto
Middle School Principal - La Grande Boissière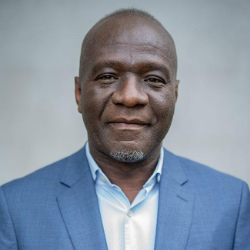 Gilbert Ekotto arrived at Ecolint in August 2022 after more than two decades at the French-American School of New York, which he taught in and helped grow to a school that today serves all year levels and offers the French and International Baccalaureate. His strong leadership skills and dedication to the teaching of French have been recognised and rewarded, including with the Outstanding Leadership Award from Concordia College's Language Villages in Minnesota (USA). Passionate about societies and people, Gilbert co-founded an orphanage in his hometown of Douala, Cameroon. His pedagogical interests and areas of expertise include the field of Economics, Social Studies, Philosophy of Education and World Literature. Devoted to students, Gilbert appreciates engaging with colleagues on ways in which our thinking can open up about where our students are going into the future.
Gilbert studied Quantitative Economics at the University of Minnesota and obtained his Masters in Education Leadership from Moreland University (USA). He also holds a Positive Discipline Certificate and is a graduate of the Emerging Leaders Institute of the New York Association of Independent Schools (NYSAIS).
An American national of Cameroonian descent, Gilbert is fluent in French, English and the Duala language. He is a football, world cuisine and world music enthusiast, and an indefatigable traveller, enjoying discovering a new country every year! He is married to a Québécoise and has one son.
---
Laurent Falvert
Director of Finance and Administration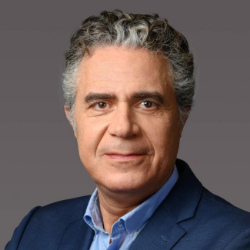 A graduate of the prestigious ESCP Europe business school, Laurent Falvert holds both French and Swiss nationalities.
A highly experienced financier, Laurent has worked in a wide range of finance roles up to and including Chief Financial Officer, and in industries as diverse as banking, pharmaceuticals, luxury goods and air transport.
A keen golfer, Laurent also enjoys travelling the world and has been tap-dancing since he was nine! He is the father of two adult daughters.
Laurent was appointed Director of Finance at Ecolint in 2014.
---
Isla Gordon
Campus and Primary School Principal - Campus des Nations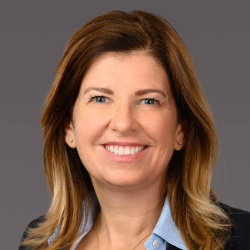 Isla Gordon has been associated with Ecolint as a student, teacher, parent and alumna since 1980! Having completed her schooling at Ecolint, Isla studied at the Universities of Geneva (CH), Surrey, Oxford Brookes and Durham (all UK) and holds undergraduate qualifications in the Arts, Psychology and Education, post-graduate studies in Educational Leadership & Management and an MA in International Education. She is also a certified professional coach, holding a qualification from the International Coaching Federation. 

After teaching in both Primary and Middle Schools in the UK post-University, Isla rejoined Ecolint in 1999, spending five years as a homeroom teacher at the Pregny Rigot site, before moving to La Châtaigneraie as a homeroom teacher, Assistant Principal and then Primary Years Programme coordinator until 2014. Isla returned to Pregny in 2017 from a two and a half year assignment as Junior School Principal at the Aga Khan Academy in Mombasa, Kenya, where among other achievements she was responsible for moving the school to a fully bilingual Junior School, pioneering a new translanguaging approach. Isla was appointed as Campus Principal in 2022 and took over leadership for all primary classes in 2023. She has also co-authored a number of chapters on bilingualism. Isla has been an active International Baccalaureate educator network (IBEN) member since 2007, serving as a workshop leader, school consultant, and school visitor team lead. 

Fully bilingual herself, having grown up largely in Suisse Romande, Isla holds both British and Swiss nationalities and is the mother of an adult daughter, herself an Ecolint alumna. When not indulging in her professional passions within Professional Learning Communities, Isla loves to spend her time outdoors hiking, biking, skiing and horseback riding, and is actively involved in promoting animal welfare, as well as development and environmental awareness through education.
---
Mark Grace
Director of ICT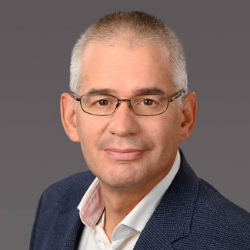 After a first BSc degree in Marine Engineering Operations in his native USA, Mark Grace spent the first eight years of his career as a Shipboard Engineering Officer with the American Maritime Officers, the US Merchant Marine.
After "jumping ship", and moving to Switzerland, Mark studied for an MBA at the University of Geneva before moving into Information and Communication Technology, joining the prestigious International Institute for Management Development (IMD) in Lausanne as eBusiness manager.
After 5 years at IMD, Mark moved to Berlin, Germany, and was appointed Director of ICT at the European School of Management and Technology (ESMT) in Berlin for several years, before branching out on his own as an independent software consultant.
Mark joined Ecolint in 2008 as Director of ICT and has worked to bring both the "behind the scenes" hardware and software systems into the 21st century, but also to ensure that the classroom use of technology by both teaching staff and students reflects best practice and supports optimal learning.
When he is not behind a computer screen, Mark enjoys spending time in the mountains with his Swiss wife and, when the occasion permits, his two adult daughters.
---
Mirna Hafez-Farah
Primary School Principal - La Grande Boissière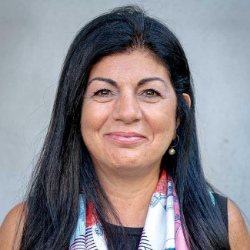 A Canadian national, Mirna Hafez-Farah grew up in Lebanon before moving to France and then Canada. She came to Ecolint from TFS - Canada's International School, where she took on the roles of teacher, Vice-Principal, Primary Principal, Middle School Principal, Interim Head of School and Advisor to the Head of School. She has also taught in public schools in Ontario. Her pedagogical specialities include language acquisition, learning through play, literacy, plurilingualism, student-centred learning and differentiated instruction.
Mirna holds a Masters in Educational Administration and a Bachelor of Education from the University of Ottawa, as well as an Advanced Leadership Certificate for International School Leadership. She is also fully trained in the International Baccalaureate Primary Years Programme, the Reggio Emilia approach and the teaching of French as a Second Language. Her expertise in pedagogy and leadership of schools has been recognised internationally, including by France's Ordre des palmes académiques.
Fully trilingual in French, English and Arabic, mother of two adult children, Mirna enjoys travelling, world cuisine and world music, reading, countryside and city walks and watching movies.
---
Jonathan Halden
Campus and Secondary School Principal - La Grande Boissière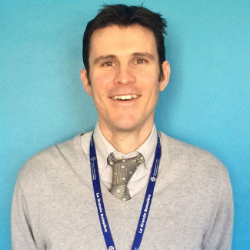 A British national, Jonathan Halden joined Ecolint in 2006. He has served in multiple capacities, ranging from Economics and Business Management teacher, to CAS and IB Diploma Coordinator, Head of Year, Head of Department and Assistant Principal, at both La Châtaigneraie and La Grande Boissière.
Prior to joining Ecolint, Jon read for both his Bachelor's degree and PGCE at the University of Warwick, and holds a Masters in Education and ICT from the University of Leeds, and taught at several other schools in the local area.
A role model of sustainable living, Jon is a keen cyclist, runner and swimmer, and an avid reader, with a keen interest in politics. His teenage daughter is a student at Campus des Nations.
---
Michael Kewley
Director of Admissions & Extra Curricular Activities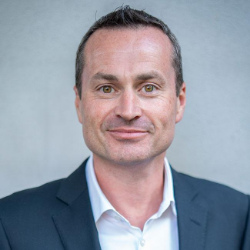 A British and French dual-national, resident in the Geneva area since 2004, Michael Kewley read for a BA and MA in Modern Languages at Magdalen College, Oxford.
Passionate about language and communication, Michael worked for 17 years at Procter & Gamble in a wide variety of local, regional and global brand management roles, as well as providing communication consultancy and training for the EMEA region prior to joining Ecolint in 2015.
Alongside his professional obligations as Director of Admissions & Extra Curricular Activities and Managing Director of Ecolint Camps, Michael was a volunteer firefighter and medical first responder from 2007 to 2023 and heavily involved in local politics from 2008 to 2021. In 2020 Michael was invited to share his expertise as a member of the Global Commission on Communication and Marketing of CASE, the Council for Advancement and Support of Education
The father of two teenage boys who attend the Secondary school at La Châtaigneraie, Michael is passionate about music, enjoys cooking and wine tasting, and demonstrates significantly more enthusiasm than ability at skiing and playing the drums.
---
Soizic Le Clère
Director of People and Culture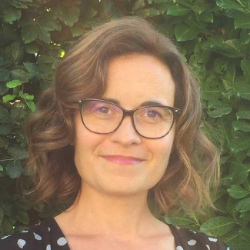 A French national, Soizic Le Clère joined Ecolint as Director of People and Culture in July 2022. Passionate about people and organisations' development, she brings with her an extensive experience as Director of Human Resources in complex multinational and multicultural environments, the most recent of which was for General Mills' operations in Switzerland, France, Spain, Greece, the United Kingdom, Germany and Australia.
Soizic's educational background has served as a solid foundation for her professional experience, having studied Social Law and Human Resources Management early on and completed this training with an Executive Masters in Business Management from the École des hautes études commerciales de Paris. She is also a certified professional coach.
Married with two daughters attending La Châtaigneraie, Soizic enjoys spending time with family and friends, going on countryside walks, doing pilates and practising sophrology.
---
Soraya Sayed Hassen
Campus and Secondary School Principal - La Châtaigneraie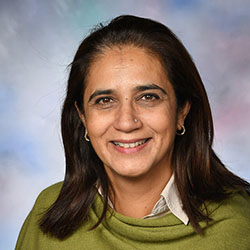 Soraya Sayed Hassen is a Mauritian national who grew up in Mauritius then moved with her family to England, where she completed her secondary education at Westminster School, London and her Bachelor of Arts (Honours) degree in English at the University of Buckingham. She then moved to Australia where she completed her Master's degree in English at Monash University and a Post Graduate Diploma in Secondary Education at the University of Canberra. 

Prior to joining La Châtaigneraie as Secondary School Principal, Soraya was the Head of Mahindra United World College (UWC) in Pune, India, one of eighteen United World Colleges belonging to UWC movement which places deliberate emphasis on diversity and inclusion, two principles to which she is deeply committed. Before this, she was a lecturer in English and Communication to undergraduate students in Mauritius and was the Head of Humanities at the private university which is the island's offshore partner of Curtin University of Technology in Perth, Australia. 

Having worked and trained as a teacher in English Language and Literature at schools in Australia, Mauritius and India, one of Soraya's passions is to support and direct plays as a way to foster a love of literature in young people and to help them build self-confidence in their use of language through performance. She has teaching experience with a wide variety of curricula, from the state curriculum in Australia to the Cambridge IGCSE and A Level syllabi in addition to the International Baccalaureate. 

Soraya is particularly interested in the history and culture of different communities and spends much of her free time reading and travelling. She is fluent in English, French and Mauritian Creole and has a working knowledge of Hindi. She and her husband have two children, one attending university in the Netherlands and one currently studying for his IB Diploma. The family enjoys spending time together travelling and discovering new places, cultures and cuisines.
---
Karen Taylor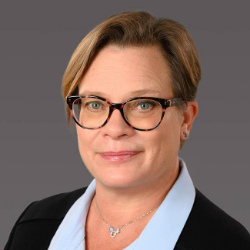 With a BA in French & Russian from Connecticut College and an MA and PhD in History from Georgetown University, Dr Karen Taylor has an impressive record as an academic and teacher and lecturer at both school and university level.
With research interests as varied as philosophy, pluri-lingualism and language acquisition, trans-culturalism and the history of women's education, Karen has worked at Harvard University, Georgetown University, George Mason and the Smithsonian Museum, and in schools in the USA and Europe. Prior to coming to Ecolint in 2015, Karen was a Dorm Head at The American School in Switzerland (TASIS) in Lugano.
Karen has been published extensively in academic journals and books, regularly presents at education conferences around the world and has been the recipient of numerous academic grants and prizes. An American and French citizen, Karen has lived in Europe since 2008 and speaks French and English fluently, as well as Russian, German and Italian.
Karen has one adult daughter. She enjoys reading, cooking, walking in the countryside and needlepoint.
---
Jamie Williams
Secondary School Principal – Campus des Nations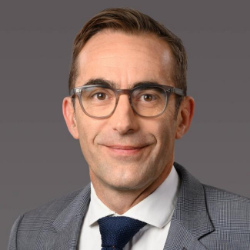 Jamie Williams is a British national, with a rich experience in schools in the UK, Monaco and Geneva. Holding a Bachelor's degree in Soil & Environmental Sciences from the University of Reading and a PGCE from the University of East Anglia, Jamie is a geography specialist. Having worked closely with the International Baccalaureate Organization (IBO) on the development of the IB Diploma geography syllabus, Jamie was also an examination writer, team leader and workshop leader for the IBO. Jamie also previously served as Chairman of the Council for International Schools Environmental Education Committee. 

At Ecolint since 2004, Jamie was Assistant Principal at Campus des Nations before stepping into the Secondary School Principal role in 2017. Passionate about developing professional learning communities, using technology to improve learning and data to inform and monitor decision-making, Jamie has been at the heart of significant innovation and improvements at Campus des Nations. 

Outside of school Jamie is an extremely avid cyclist, and enjoys music and reading. His daughters graduated from Campus des Nations in 2017 and 2022.