The Governing Board of the Foundation consists of twelve elected members and two members appointed by the Canton of Geneva, and one member appointed by the Canton of Vaud. The Board also exercises its powers of co-option, for example by inviting the United Nations to nominate a representative.
Elected members are chosen by an electorate that consists of parents, members of staff, former members of staff, and former students. Votes are cast either by electronic ballot or at the Consultative General Assembly of the Foundation that is held each year in May.
The Board is the guardian of the School's mission. This stewardship involves ensuring that the Foundation has a well-developed strategy which is aligned with this mission, responsive to external conditions and to the expectations of its stakeholders, is realistically costed and will ensure the organisation's continued success; ensuring that the necessary structure, function, policy, controls and information are in place to enable the effective, secure and sustainable operation of the Foundation; accountability for the financial well-being of the school, including capital assets, operating budgets and fundraising.
Board committees
Much of the work of the Board is conducted through committees, most of which also include parent members of the Campus Advisory Bodies and members of the teaching staff. These committees include an Executive Committee and committees responsible for Finance, Strategic Planning, Nominating and Governance (elections), Bursaries, and Development.
Governing Board Members 2023-2024
Philip Jennings
Chair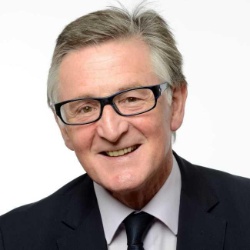 Ecolint has been part of Philip's life since the 1980s. His wife was at La Châtaigneraie, Head of Art and IB Chief Examiner for Visual Arts, their two children are alumni. He has addressed graduation ceremonies and regularly speak to classes. Philip was a Global Union leader for thirty years, a working life closely aligned with Ecolint values, of equality, solidarity, human rights, social justice, inclusion, dignity at work and against discrimination in all its forms. Founding General Secretary of Uni Global Union with members in 150 countries working to make the world a better place, for sustainability, responsible business, peace. Member of Global Commissions on Future of Work and Common Security. Currently Co-President of the International Peace Bureau, the world's oldest peace organization and Nobel prize winner with a passion for education for peace. Member Board of Directors of the Centre for Sport and Human Rights. His energy will be devoted to building a strong Ecolint community that pulls together and for a memorable 2024 Ecolint Centenary that celebrates our history, values, educational innovation and excellence.
Philip has been elected to the Governing Board of the ECOLINT Foundation for the period 2022-2026 and he is the Chair of the Governing Board.
---
Ivana Širović
Vice-chair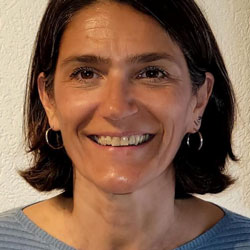 Ivana is a Croatian citizen, and has been living in Switzerland since 2015. Her twin daughters are students at La Châtaigneraie secondary.  

Before moving to Switzerland, Ivana has lived in Europe, Asia and North America, and spent 15 years working in the non-governmental world of humanitarian assistance and international development.  While with CHF International (now Global Communities), she was Country Director in Uzbekistan (2003-2005) directing a conflict prevention program, and Deputy Regional Director (2005-2006) managing humanitarian and development programs in Africa and the Middle East. At IREX (2006-2008), Ivana served as Deputy Director in Civil Society division, overseeing civil society development programs in former Soviet Union and Eastern Europe. In 2008 she gave birth to her daughters and subsequently put her career mostly on hold, devoting majority of her time to her family. Currently Ivana holds the position of Associate Director at MMV, Medicines for Malaria Venture, where she has been working since 2016, focusing on donor relations and income generation, as well as projects related to organizational financial stability. 

She holds a B.Sc. in mechanical engineering from University of Zagreb and a MA in Environmental Science and Policy from Clark University in the United States.
Ivana has been elected to the Governing Board of the ECOLINT Foundation for the School Year 2022 - 2023 to replace a Board member who resigned. Ivana has facilitated the work of the DG Search Committee, resulting in the selection and appointment of Ecolint's next DG, in December 2022. Starting in February 2023, Ivana was elected the Treasurer of the Governing Board, a member of the Executive Committee and the Chair of the Finance Committee. She has been reelected to the Governing Board of the ECOLINT for the period 2023-2027 and she is the Vice-Chair.
---
Nakshatra Pachauri
Treasurer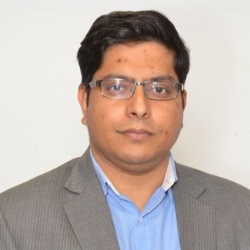 Nakshatra is an Indian national residing in Geneva since 2008. Both he and his wife are finance professionals and have spent their career in the international development space, spread across several countries over the years. Their son has recently graduated into the secondary school at Campus des Nations.
Currently, Nakshatra is the Head of Finance and Administration at the South Centre, an international organisation based in Geneva assisting the developing world on multilateral issues such as Business and Human Rights, Climate Change, Development Finance, Health, International Trade policy, Intellectual Property regimes, International Taxation, Investment Treaties, South-South Cooperation, etc. Nakshatra also plays an important role in developing and implementing organisational strategy, evaluations and communications for his institution.  

Prior to that, he has worked as the Head of Regional Audit (Asia) with ACTED, a large European NGO travelling extensively to several countries and as the Finance Delegate for the Hong Kong Red Cross based in Sri Lanka to implement the post 2004 Tsunami rehabilitation projects. These valuable experiences provided him significant exposure and clear understanding of the operational challenges at the grass root implementation level.  

The experience in Geneva, besides being professionally enriching, has also provided him an opportunity to explore the very rich French cultural, social and philosophical thought. Outside his professional career, Nakshatra keenly follows the digital information ecosystem and associated user behaviours. He has authored a book highlighting the perils of social media behaviors and has published several articles and blogs on similar topics. 

Nakshatra is a professionally qualified Associate Chartered Accountant (ACA), Chartered Financial Analyst (CFA) charterholder, a Financial Risk Manager (FRM) and a Certified Management Accountant (CMA) 

Nakshatra has been elected to the Governing Board of the ECOLINT Foundation for the period 2022-2026. He is the Treasurer of the Governing Board.
---
Oksana Wolfson
Secretary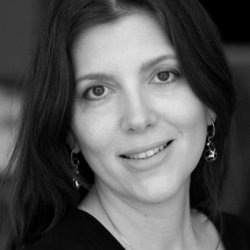 Oksana is a Québec (Canada) lawyer and works as a senior legal officer at the International Labour Office (ILO). Before moving to Geneva over 20 years ago to complete her Master Degree in International Relations (international law) and work at the ILO, she lived in Belarus, Israel, Canada and Italy.  
Oksana's expertise is in the area of international labour rights, in particular freedom of association and collective bargaining rights, labour relations and dispute resolution.  She wishes to put her efforts into ensuring transparent governance, restoring trust of the Ecolint community in the Governing Board, and promoting a meaningful and productive collaboration among all stakeholders.
Oksana has 2 children who attend La Chataigneraie Primary School.
Oksana has been elected to the Governing Board of the ECOLINT Foundation for the period 2022-2026. She is the Secretary of the Governing Board.
---
Ijeoma Aghanya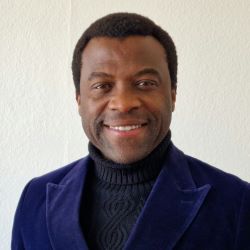 Ijeoma Aghanya is a husband to Elspeth and father of 3 boys, Benjamin, Samuel and Alistair, who have all been students at Ecolint (LGB). Benjamin is currently in Year 12.  He grew up in Nigeria and in Scotland where he attended school and University.  He has been in Geneva for the last 14 years, most of which was spent working within the financial services industry primarily in the Legal and Compliance sectors.  He has enjoyed professional stints in London and Bermuda, working mainly for Banks and Asset Management companies. 

Ijeoma is a qualified British Chartered Accountant with an MBA in Finance from Manchester Business School. He also holds the UK Investment Management Certificate (IMC).  He currently runs his own Geneva based companies in the Health, Beauty (Swiss Nail & Spa SA) and Commercial Property sectors (PVI Offices). He is an Executive Director at PrivateTrust Partners SA, an M&A Boutique in Private Equity and Real Estate providing independent advisory services for cross border acquisitions and divestments for the small and middle market segment. 

Ijeoma has a passion for tennis, boxing and playing the piano.  He is a co-founder of the African Professional Network Switzerland and a registered "volunteer" in his local Commune in Geneva. 

Ijeoma has been elected to the Governing Board of the ECOLINT Foundation for the period 2023-2027.  
 
---
Jill Bailey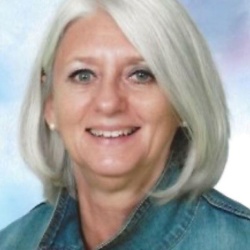 Jill is a retired Ecolint teacher who has dedicated 41 years of service to the Foundation. She came to Geneva in September 1978 and in the same month volunteered her services at the lakeside Foundation school of Bellevue. Over the years she worked as a primary school teacher at Pregny, La Châtaigneraie, LGB and finally in the PYP programme at Nations, from where she retired in 2019.  Ecolint has been an integral part of her life throughout all these years. 

She is a British graduate from Leeds University. Her two children are alumni of La Châtaigneraie and both now live and work in the area. From the early days she was an active member of the Ecolint community, serving on the Board Nominations Committee, the LGB Campus Development Group, and as the Nations PYP representative in the Staff Association. Here she represented the Campus des Nations on the Commission Paritaire and was also a staff representative in the negotiation of the 2012 Collective Contract.  

Having worked hands on across all the Foundation's campuses, with the various members of its community, she brings to the board over forty years insider knowledge of Ecolint's modus operandi, unique culture and values.
Jill has been nominated to the Governing Board of the Foundation by the Staff Association Committee for a two-year mandate (renewal) 2022-23 & 2023-24. 
---
Nicolas Bindschedler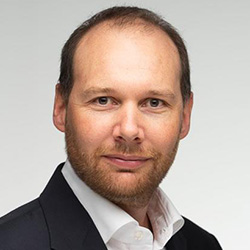 Nicolas Bindschedler is Deputy Secretary General of the Département de l'instruction publique, de la formation et de la jeunesse (DIP) of the Canton of Geneva since 2018. As part of his mandate, he ensures the follow-up of files related to compulsory education. He is also the DIP delegate for inter-cantonal affairs. As such, he is a member of the Conference of Secretaries General of French-speaking Switzerland and Ticino (CIIP) and, within the framework of the CDIP, he sits on the Swiss Conference of Secretaries General of the Departments of Public Education. 

Nicolas Bindschedler graduated with a teaching diploma from the l'Ecole normale cantonale de Fribourg in 1998. He then successfully completed a diploma in classical singing from the Haute école de musique de Genève in 2006. In 2011 he obtained an advanced degree in administration et gestion d'institutions de formation from the HEP Vaud, IDHEAP, IFFP and IUFE. 

He is married and has 2 children who attend the Geneva public school. 

Nicolas Bindschedler has taught for several years in primary schools before taking over the management of schools for 8 years. As a Director of the Direction générale de l'enseignement obligatoire (general management of compulsory education) between 2015 and 2018, he managed various strategic projects related to inclusive education.
He has been nominated as the representative of the Canton of Geneva (Département de l'instruction publique | DIP) in 2019 for an undefined mandate.
---
Emanuela Dose Sarfatis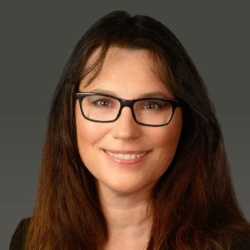 As a certified lawyer, Emanuela Dose Sarfatis was in charge of the legal department of a private bank in Lausanne and served on the municipal council of her commune before starting to work for the State of Geneva in 1994.
Successively Deputy Director of the Economic Development Department and Deputy Director of the Economy, Research and Innovation Department, Emanuela Dose Sarfatis is currently Deputy Secretary General in the Department of Finance and Human Resources. More specifically, she is in charge of the Cantonal prosecution and bankruptcy offices, and is responsible for the promotion of equality and the fight against discrimination and domestic violence in collaboration with the Office for the promotion of equality and prevention of violence (BPEV).
As part of her role, Emanuela Dose Sarfatis has sat on the foundation boards and board of directors of several organisations that support the business sector and promote innovation [namely, Cautionnement romand, SIP West EPFL, Fondation d'aide aux entreprises (FAE), Fondation Eclosion, Fondation genevoise pour l'innovation technologique (FONGIT), Genilem, Office for the Promotion of Industry and Technology (OPI) and the Plateforme intercantonale d'innovation (Platinn)].
She currently sits on the boards of the Interprofessional Council for Training (CIF), Labour Market Supervisory Board (CSME), Tripartite Commission for the Economy and the Timelab Foundation.
Emanuela Dose Sarfatis has been a member of the Governing Board since 2009 as the representative of the Canton of Geneva (Department of Finance, Human Resources and External Affairs) for an undefined mandate.  
 
---
Julia Lear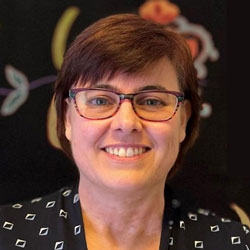 Julia is an American lawyer, living in Geneva since 2009.
She works for the International Labour Organization. She started her career as a public interest lawyer in California and Washington states. She worked as a general counsel for the Washington State Nurses Association, where she negotiated collective bargaining agreements and defended nurses during mediation and arbitration processes.
Before moving to Geneva, she worked with WHO Regional Office for Europe in Denmark, and the National Democratic Institute in Kyrgyzstan.
In addition to her law degree, she has an MSC in International Health Policy.
She is married and her son attends Campus des Nations.
Julia has been elected to the Governing Board of the ECOLINT Foundation for the period 2022-2026. 
---
Brendan McGivern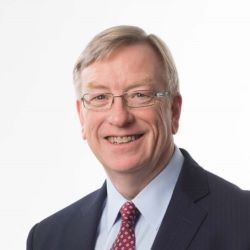 Brendan McGivern is an international trade lawyer. He practiced law for over 35 years, including as a Partner in White & Case LLP. He served as the head of the World Trade Organization (WTO) practice group of White & Case, as well as the Executive Partner of the Geneva office of the firm. 

Prior to joining White & Case, Brendan was a member of the Canadian diplomatic service. He served as the legal adviser at the Canadian Permanent Mission to the WTO in Geneva. Earlier, he was Counsellor at the Canadian High Commission in Kuala Lumpur, Malaysia. 

Brendan also worked for the UK Department for International Trade in London as Senior Legal Adviser. 

He has a BA in International Relations and an LLB from the University of British Columbia, and an MA in International Affairs from Carleton University. He was admitted to the Bars of British Columbia and Ontario. 

Brendan is a citizen of both Canada and Ireland. He and his wife Cherise Valles have lived in the Geneva area for 25 years. Their three daughters all graduated from the International School (La Châtaigneraie). 

Brendan retired in 2022, and he is now a student at the Postgraduate Certificate in Historical Studies programme at the University of Oxford. 

He has been elected to the Governing Board of the ECOLINT Foundation for the period 2023-2027. 
---
Jenny Moberg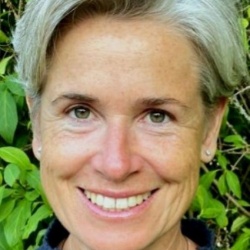 Jenny is a British doctor, living in Geneva since 2018 with her Swedish husband and three sons, two of whom are at Campus des Nations.
She is a public health physician and researcher. Having worked as a paediatrician and general practitioner in Mozambique and the UK, Jenny now works for the Global Health Unit of the Norwegian Institute of Public Health. She has degrees in genetics and medicine from the University of London and an MSc in public health from the London School of Hygiene and Tropical Medicine.
With a research background in developing frameworks for transparent evidence-based health policymaking, Jenny works to make health research understandable and accessible to all. She has advised governments and the WHO on health decision-making processes. Her current research is on teaching health literacy and critical thinking to schoolchildren, tackling the problem of large volumes of easily available misinformation about health.
Committed to the rights of children with differences, Jenny volunteers with the Geneva-based NGO, All Special Kids (ASK), running their Parents' support group, and on their Education and Advocacy Committee.
She is an IB graduate from United World College of the Atlantic.
She has been elected to the Governing Board  of the ECOLINT Foundation for the period 2021-2025.
---
Frank Moser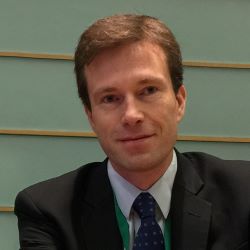 Dr. Moser is a professional hailing from Germany, with degrees in both chemistry and economics, as well as a PhD in the field of ethics in chemistry. He has been working at the United Nations (UN) since 2005, focusing primarily on industrial development and environmental governance. Currently, Dr. Moser oversees various functions in the Executive Office of Secretariat of the Basel, Rotterdam and Stockholm Conventions, UN Environment Programme focusing on the life cycle management of hazardous chemicals and waste. He is married and has two young children at La Châtaigneraie primary school. 

With over 15 years of experience working in the UN on resource mobilization in the environment field, oversight, and sustainability, Dr. Moser brings a broad mix of skills to the Board, such as a solid understanding of governance, finance and budgeting. 

In his vision, Ecolint aims to be an institution that prepares children for the complexities of the political, ethical and environmental issues facing our world today and that allows them to emerge as informed global citizens who are equipped to make meaningful contributions towards a sustainable and peaceful future.
He has been elected to the Governing Board of the ECOLINT Foundation for the period 2023-2027.
---
David Rimer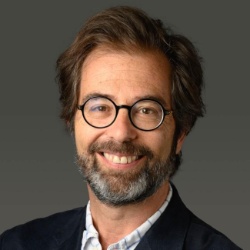 David Rimer was born in Canada but grew up in Geneva.  He spent 14 years as an Ecolint student at La Grande Boissière from pre-school to the IB.  After majoring in Anthropology at Stanford University, he pursued a career in finance co-founding a venture capital firm focusing on technology and life sciences  - Index Ventures - and working there as a General Partner for 18 years.  
David left Index in 2013 to pursue a career in education.  He completed the PGCE program offered by Ecolint that same year and went on to teach History at LGB.  He taught in the high-school in French and English for 5 years and enjoyed it tremendously.  In June 2019, he decided to change professions once again in order to pursue a career in audiovisual production focusing on "content that matters". 
David has 2 children; a daughter who graduated from LGB in 2020 and a son who will graduate in 2023.  
He has been elected to the Governing Board of the ECOLINT Foundation for the period of 2020-2024. 
---
Svetlana Ryzhik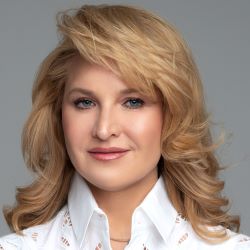 Svetlana has been living in Switzerland since 2017. She is married and her son is a student at La Grande Boissière secondary school.
Before moving to Geneva Svetlana spent 20 years working in different positions in Finance and Strategic planning in Russia and Ukraine working for Japan Tobacco International (JTI). She started her career as a Financial Manager in 1997 and became a Business Planning and Analysis Director in 2006. During her assignment in Ukraine in 2011 – 2017 Svetlana worked as a Business Decision Support Director being responsible for consolidation of analytical data and streamlining the strategic planning process.
In 2017 Svetlana moved to Geneva to lead the Finance Stream of One Data project with the objective to implement a common enterprise-wide performance platform, integrating commercial & financial management information. She holds a Master's Degree in Economics from Saint-Petersburg State University, Russia.
In 2023, Svetlana has completed a Master of Advanced Studies in European and International Governance program in the University of Geneva.
Svetlana is a Certified Management Accountant (CMA), Certified in Strategy and Competitive Analysis (CSCA) and has certifications in Project Management (Agile, Prince2) and Change Management.
She is a member of the Global Advisory Diversity, Equity, and Inclusion Committee at the Institute of Management Accountants (IMA, USA) and also the Internal auditor of IMA Swiss Chapter. 
She has been elected to the Governing Board of the ECOLINT Foundation for the period 2023-2024.
 
---
Nirmalya Syam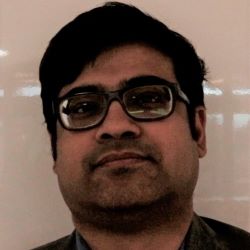 This section will be updated soon.
Nirmalya has been elected to the Governing Board of the ECOLINT Foundation for the period 2023-2027.
---
Jamie Williamson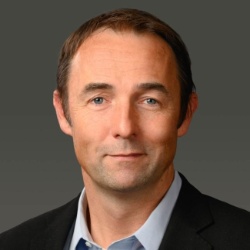 Jamie Williamson, a British citizen, has been based in Geneva since 2012, where he works as the Executive Director of the International Code of Conduct for Private Security Providers' Association, an international multi-stakeholder initiative, which regulates and monitors the activities of private security companies operating in complex and hostile environments worldwide.
Jamie Williamson previously served with the International Committee of the Red Cross, in numerous capacities, most recently, where, managing over 60 delegates worldwide, he was responsible for the strategic orientation and implementation of core ICRC programs, advising and training State and non-State arms carriers, including multinational forces and private military and security contractors, on International Humanitarian and Human Rights Law. Jamie Williamson worked also as the ICRC's Legal Adviser for Common Law Countries in Geneva and Southern Africa, and, from 2008 to 2011, he was the ICRC Legal Adviser for the Washington D.C. Delegation, providing legal support for ICRC activities in the U.S. and Canada, with particular focus on Guantanamo and military operations in Afghanistan and Iraq. 

Before joining the ICRC, Jamie Williamson was with the UN ad hoc international criminal tribunals in Tanzania and the Netherlands, and the Special Court for Sierra Leone, working on the first international judgments on the crimes of genocide, at trial and appellate level. He has published numerous papers on repression of war crimes, international justice, and challenges to international humanitarian law in contemporary armed conflicts.
Jamie Williamson is on the Faculty of the Human Rights Academy at American University, Washington D.C. and was a Visiting Professor of Law at New England School of Law, in Boston.
He is married, and has one daughter, who attends Nations.
He was elected to the Board of Ecolint for four years (2017-2021) and he was co-opted for a 2-Year mandate (2021-2023).  In June 2023, he has been co-opted for a one-Year mandate (2023-2024).
---
Staff observers
| NAME | SCHOOL |
| --- | --- |
| David Todd | La Châtaigneraie |
| Inal Uygur | La Grande Boissière |
| Sahar Rai | Campus des Nations |
Management
| NAME | POSITION |
| --- | --- |
| Conrad Hughes | Director General |
| Laurent Falvert | Director of Finance and Administration |