Welcome to the Secondary School!
Our students aged 11 to 18 enjoy facilities which include assembly halls, science, language and computer laboratories, music studios, a theatre, cafeteria and multimedia centre. Sports facilities include a modern sports hall, synthetic football pitch and basketball courts. 
From Years 7 to 9 (age 11-14), students can choose to study the IB Middle Years Programme in English, French, or a bilingual combination of both. From Year 10 onwards, your child will choose either the IGCSE and IB Diploma or the Swiss maturité programme. Both provide excellent preparation for higher education at top institutions around the world. La Châtaigneraie is the only Ecolint campus offering the national secondary diploma, the maturité suisse.

 Soraya Sayed Hassen
 Campus and Secondary School Principal, La Châtaigneraie
1050
students aged 11 to 18
9:1
Student/teacher ratio
1:1
ICT support for every student
98%
Average pass rate in the IBDP (past 3 years)

Bilingual programme
Students can study in English, French, or a combination of both.

Two pathways to Secondary diplomas
Students can chose between the IGCSE / IBDP pathway (anglophone) or the Swiss national diploma, the maturité suisse (francophone). 

Learning support
Students with learning difficulties can benefit from the expertise of our Learning Support staff. Students with moderate to profound learning needs can follow our Extended Support Programme.

Extra-Curricular Activities
Culture & Leisure, Sports, Music, Performing Arts... There is something for everyone!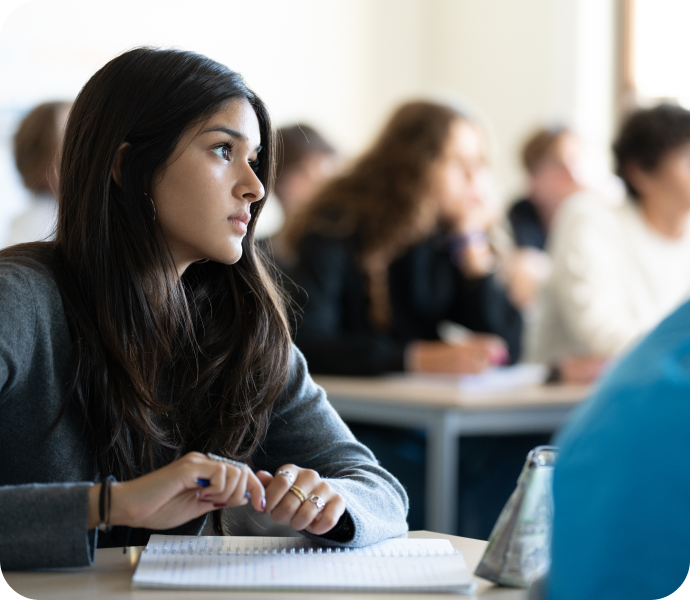 La Châtaigneraie curriculum options
An early pioneer in child-centred education, Ecolint prides itself on giving every child what he or she needs by fulfilling its mission to educate students to be global citizens with the courage and capacity to create a just and joyful tomorrow together.
Additional information and services
Visit our school!

In-person visits
We are happy to welcome visitors in our Primary School once a week during term time on Monday at 12:00 and Thursday at 10:30 (no visits the on first Thursday of each month).

Online visits
Video conferences with the Secondary School Principal take place once per month throughout term time on the first Thursday of every month at 10:30.