Welcome to the Secondary School!
Our Secondary School has high academic standards, reflected in our strong examination results. It is also fully inclusive and strives to meet the needs of all of our students, providing learning support, as well as English as an additional language.
Through community service, humanitarian work, educational visits and trips both within Switzerland and across the world, our students develop not only a love of learning, but also the skills they need to become responsible global citizens.

 Jamie Williams
 Secondary School Principal, Campus des Nations
680
students aged 11 to 18
100%
IB Diploma Programme pass rate (2022)

English / French education
English-language teaching, complemented by French classes and francophone teachers for selected subjects

IB Programmes
International Baccalaureate Middle Years Programme, Careers-related Programme and Diploma Programme

Learning support
Students with learning difficulties can benefit from the expertise of our Learning Support staff. Students with moderate to severe learning needs can follow our Extended Support Programme. 

Extra-Curricular Activities
Culture & Leisure, Visual Arts, Performing Arts, Dance, Clubs... There is something for everyone!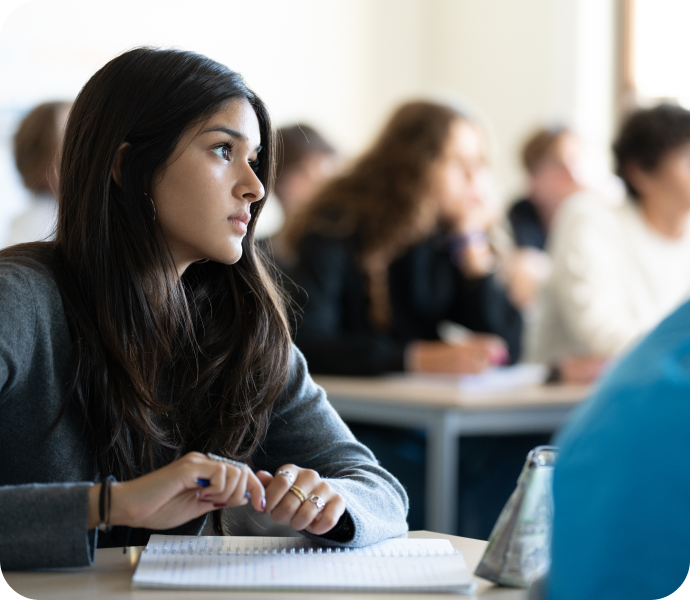 Campus des Nations curriculum options
An early pioneer in child-centred education, Ecolint prides itself on giving every child what he or she needs by fulfilling its mission to educate students to be global citizens with the courage and capacity to create a just and joyful tomorrow together.
Additional information and services
Visit our school!

In-person visits
We are happy to welcome visitors in our Secondary School each week during term time on Monday at 8:30.

Online visits
Video conferences with the School Principal take place once per week throughout term time on Thursday at 13:15.