Our I-DEA Vision
For the past three years, the International School of Geneva (Ecolint) has been dedicated to embodying its mission of "Educating students to be global citizens with the courage and capacity to create a just and joyful tomorrow together" through active commitment to inclusivity, diversity, equity, and anti-racism. As we continue on this transformative journey, our goal is unwavering: to foster a culture of openness, learning, and belonging. We recognize that true progress demands intentionality – a commitment to learning, growing, and evolving together.
 
Collaborating globally
In the 2022-2023 school year, our dedication has expanded. Through collaborative efforts with AIELOC and ECIS, we have united in a global endeavour. Together, we co-created an international task force that amalgamates DEIJ teams and their initiatives across international schools. This unity empowers us to share insights, strategies, and best practices, further amplifying our collective impact.

 
Inaugural event - October 2022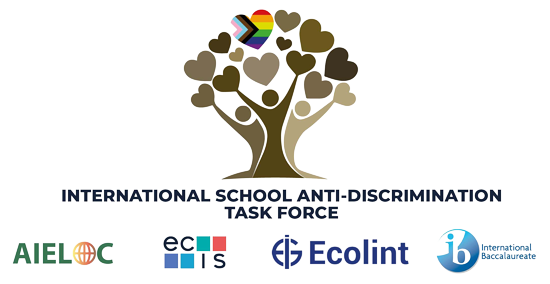 Our Commitment
At I-DEA, we are resolute in nurturing an environment that celebrates differences, demonstrating respect through meaningful actions. This journey hinges on mutual learning – an ongoing process that began in August 2020. Our focus has been on fostering dialogue, prompting introspection about ourselves and others. Through continuous learning, we enrich our educational experience, cultivating a consciously inclusive atmosphere for every member of our community. Dialogues and training serve as the cornerstone of our efforts, fostering mutual understanding, effective communication, and spaces for healing.
 
Our Holistic Approach
Our I-DEA vision is rooted in a comprehensive approach that encompasses all levels of our institution. From personal to institutional, cultural to interpersonal, our learning opportunities cater to every facet of our community. We've embarked on this journey in collaboration with courageous community members, enhancing accountability and raising awareness. Through this commitment, we move closer to embodying our Charter's principles of equality and solidarity among all individuals, transcending nationality, race, sex, language, and religion.
Our Progress
Ecolint's journey towards greater Inclusion, Diversity, Equity, and Anti-Racism (I-DEA) is underpinned by a set of twelve critical success factors that guide our path. These factors have since 2020 provided a strategic framework for our initiatives and actions and accountability and cohesion from 2020 to 2023. 
Senior Leadership Commitment: Board and Senior Management Dedicated to a Multi-Year Initiative.
Comprehensive Inclusion: Addressing Historical 'Isms'.
Unified Conceptual Approach: Commitment to a Shared Framework.
Strategic Action: Planning Across Personal, Interpersonal, Institutional, and Cultural Levels.
Internal Inclusive Diversity Groups: Transparent Selection and Operation Process.
Resource Allocation: Defining and Allocating Essential Resources.
Learning Laboratory: Ecolint as a Hub of Continuous Learning.
Clear Objectives: Personal and Institutional Outcomes for the Council.
Training Commitment: Adequate Training for Council and Senior Management.
Cultural Competence: Senior Management Modeling Inclusive Behavior.
Demonstrable Competencies: Defining Competencies at All Four Levels.
Affirming Experience: Creating a Positive, Respectful Space for All Activities.
Together, we strive to uphold these factors, catalysing change and embracing diversity in all its forms.
Join us on this transformational journey as we build a community where everyone's voice is heard, valued, and celebrated. Together, we create an inclusive, diverse, equitable, and anti-racist future.
For any questions or queries, please contact our I-DEA Lead at yasmine.sadri@ecolint.ch