540
Students aged 9 to 13
100%
Staff trained in Assessment for Learning
100%
Exposure to subject teaching in both French and English
Welcome to the Middle School!
Our role at the Middle School is to help our students navigate this important passage and transition successfully to the Secondary school system. Students are encouraged to become increasingly autonomous with the help of constructive and structured guidance.
Students follow Ecolint's unique Universal Learning Programme, based on deep understanding, competence development and social impact. We also strive to prepare our students to take maximum advantage of the bilingual offer available in Secondary School. We provide our students with strong language teaching in English and French, as well as giving all students the opportunity to study some subject content in both languages.

 Gilbert Ekotto
 Middle School Principal, La Grande Boissière

Bilingual programme
English-French bilingual options and co-teaching

Universal Learning Programme
Students follow Ecolint's ULP, created on campus and based on deep understanding, competence development and social impact.

Learning support
Students with learning difficulties can benefit from the expertise of our Learning Support staff. Students with moderate to severe learning needs can follow our Extended Support Programme (limited places). 

Extra-Curricular Activities
Culture & Leisure, Visual Arts, Performing Arts, Dance, Clubs... Our ECA programme is the ideal complement for the harmonious development of your child.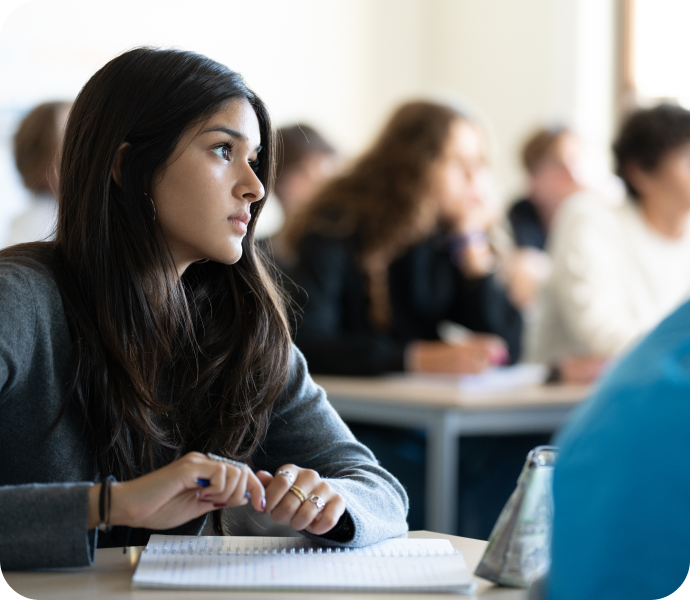 La Grande Boissière curriculum options
An early pioneer in child-centred education, Ecolint prides itself on giving every child what he or she needs by fulfilling its mission to educate students to be global citizens with the courage and capacity to create a just and joyful tomorrow together.
Additional information and services
School hours
Monday to Friday: 8:15 – 15:00
(Wednesdays: 8:15 - 12:25)
Cafeteria
Every day, our caterer SV Group provides our students with healthy and balanced meals and is committed to sustainability and promoting animal-friendly farming practices.
Transport
We provide a transport service to and from each campus that covers parts of the cantons of Geneva and Vaud, as well as neighbouring France.
Visit our school!

In-person visits
We are happy to welcome visitors to our Middle School once a week during term time on Tuesday at 10:30

Online visits
Video conferences with the Middle School Principal take place once per week throughout term time on Wednesday at 13:00.