Geneva, Saturday 1 – Sunday 2 April 2023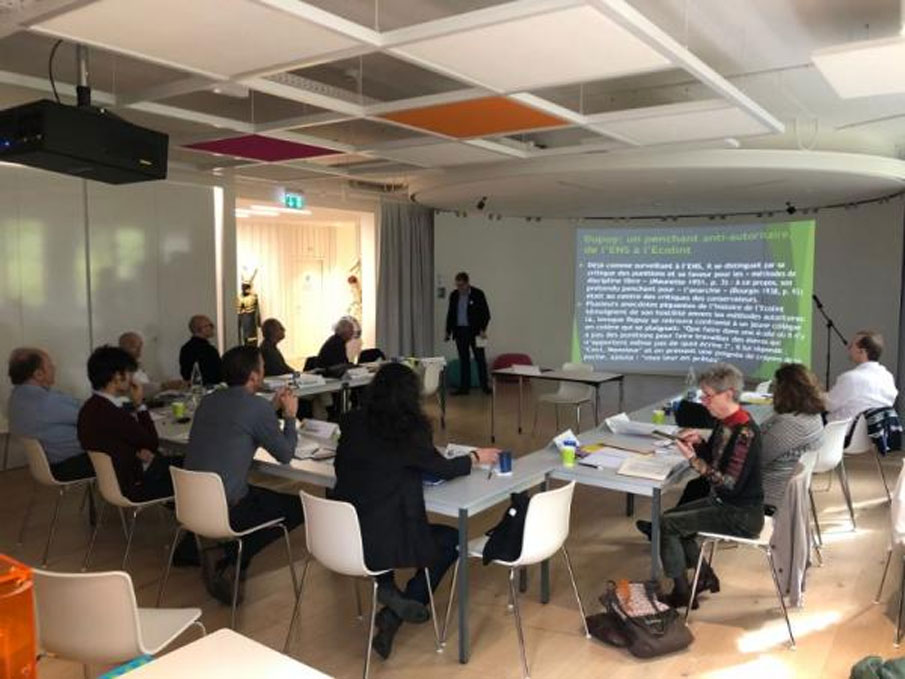 How often has our school congregated eminent scholars from the Universities of Geneva, Bologna, Boston, Utrecht and Uppsala, from the Freie Universität Berlin and from the Centre national de la recherche scientifique (CNRS), in addition to the Director General of OIDEL (Organisation Internationale pour le Droit à l'Education et la Liberté d'Enseignement), to the world's two top specialists in the history and development of the International Baccalaureate, to the award-winning biographer of one of Ecolint's founders, to the spouse of one of its most notable alumni, and to our very own incoming Director General – all of them brought together for a two-day Symposium focusing on the origins and development of Ecolint, and more generally of international education? This long-winded question is, of course, rhetorical; a circumspect answer would be "rarely" (given how much has happened in Ecolint's 99-year history), but "never before" is almost certainly the accurate reply.
This event, held in La Grande Boissière's STEM Centre and in the Foundation Archives' Salle Stereva, was the forerunner of our Centenary celebrations, intended to pave the way for a possible, large-scale exhibition (provisionally titled: "Geneva, Cradle of International Education") with a book that will collect all the contributions to the Symposium of the above-mentioned scholars and specialists (whom you will find listed below). The Symposium's success, both in terms of the eminence of the participants and their enthusiasm for the related topics that were presented and discussed, augurs well for other Centenary projects that focus on our school's past.
Small wonder: today there are many thousands of international schools throughout the world (one source, ISC Research, puts the number at over 13,000, with a total enrolment of 5.8 million), and almost 2 million students are currently enrolled in International Baccalaureate courses. Increasingly, even schools that don't specifically label themselves as "international" espouse internationalism as an educational outlook that is self-evidently desirable.
It's remarkable that this vast, global phenomenon of international education was delicately hatched when three teachers, eight students and a rabbit (a pregnant rabbit, one might specify, given the fact's symbolism) gathered on Wednesday 17 September 1924 for Ecolint's first day of classes. Of course, the values and ideals that fostered our school's fragile birth had previously been ruminated in one way or another by educational visionaries (some of whom participated in Ecolint's foundation), and Geneva – which had a noble humanitarian tradition as a haven for refugees, benefited from Switzerland's neutrality, hosted the both the ICRC and world's first international organizations, and was a hothouse for progressive, Rousseau-influenced educational thinking – provided a fertile breeding ground for Ecolint's emergence. But our school was the first concrete, hands-on implementation of these seemingly utopian aspirations.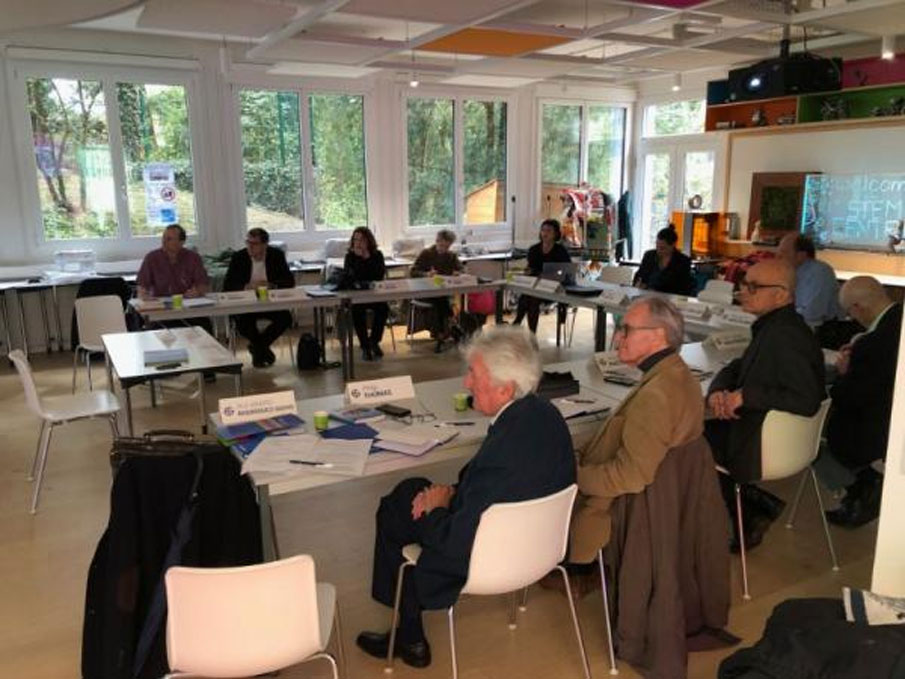 All this, and much else, was explored by the Symposium's participants, who offered fascinating insights into legendary Ecolintian figures such as Ludwik Rajchman, Paul Dupuy and Marie-Thérèse Maurette; prominent Ecolint alumni such as Edward A. Tenenbaum and Claude Jaeger; the origins and development of the International Baccalaureate; the "Education nouvelle" pedagogical movement, the Institut Jean-Jacques Rousseau, and their relationship with the development of educational internationalism in Geneva; the influence of Geography, as a discipline, in shaping the outlook and aspirations of international educators; the sociological implications of international education; the value of teachers as knowledgeable, ethical, inspiring role models and purveyors of principled pluralism (in contrast to relativism); the renewed importance of parental guidance and supervision in the face of all-pervasive information technology and artificial (simulated) intelligence; the virtuous application of such technology to the inculcation of environmental awareness and sustainability; and – concluding the Symposium – the vision of Ecolint's incoming Director General for the future of our school and of international education. 
In addition to the academic, intellectual, historic and educational value of the participants' input, the Symposium benefited from a level of mutual goodwill and interpersonal cordiality that laid the foundations for future, promising forms of collaboration, in the light of Ecolint's Centenary and beyond. One might be forgiven for seeing the proverbial, quasi-mystical "Ecolint spirit" truly at work.
(Particular thanks are due to Dr. Roland Carrupt, from the Kollegium Spiritus Sanctus Brig: without his conceptual and organizational input, the Symposium could not have taken place)
List of participants
(in alphabetical order)
Prof. Dr. Michael D. Aeschliman (Professor Emeritus of Education, Boston University; Professor of Anglophone Culture at the University of Italian Switzerland; Curriculum Advisor to the TASIS Foundation Board; author of The Restoration of Man: C. S. Lewis and the Continuing Case against Scientism)
Dr. Marta A. Balińska (Member of the Ethics Review Committee, World Health Organization; author of: For the Good of Humanity – Ludwik Rajchman, Medical Statesman) 
Dr. Roland Carrupt (Kollegium Spiritus Sanctus Brig, Switzerland; author of: Marie-Thérèse et Fernand Maurette-Dupuy – une biographie familiale entre la rue d'Ulm et les bords du Léman)
Dr. Joëlle Droux (Maître d'enseignement et de recherche, FPSE, University of Geneva; Co-responsable de l'Equipe de recherche en Histoire sociale de l'éducation (ERHISE); author of: Enfances en difficulté : de l'enfance abandonnée à l'assistance éducative – 1892-2012; editor of: Border-crossing in Education: Historical Perspectives on Transnational Connections and Circulations)
Dr. Leonora Dugonjic-Rodwin (Associate Professor, Uppsala University; Senior Postdoctoral Fellow, École normale supérieure Paris-Saclay; author of: Le privilège d'une éducation transnationale) 
Prof. Dr. Federico Ferretti (Department of Education Studies, University of Bologna; author of: Da Strabone al cyberspazio: introduzione alla storia del pensiero geografico and Geographies of Federalism during the Italian Risorgimento, 1796-1900)
Mr. Ignasi Grau i Callizo (General Director, OIDEL – Organisation Internationale pour le Droit à l'Education et la Liberté d'Enseignement)
Dr. Ian Hill (Former Deputy Director General, International Baccalaureate Organization; author of:  The International Baccalaureate: Pioneering in Education)
Prof. Dr. Rita Hofstetter (Co-responsable de l'Equipe de recherche en Histoire sociale de l'éducation, Co-responsable de l'Equipe de recherche des Disciplines scolaires, Directrice des Archives Institut Jean-Jacques Rousseau, University of Geneva; author of: Globalisation des mondes de l'éducation : Circulations connexions, réfractions, 19e-20e siècles and Genève: creuset des sciences de l'éducation – fin du XIXe – première moitié du XXe siècles)
Prof. Dr. Carl-Ludwig Holtfrerich (Professor emeritus, Free University of Berlin; former Chairman of the J. F. Kennedy Institute; Member of the Berlin-Brandenburg Academy of Science; Helmut Schmidt Prize for German-American Economic History; author of: Wirtschaftspolitik in Deutschland 1917–1990) 
Dr. Conrad Hughes (Director of La Grande Boissière Campus and Secondary School, International School of Geneva; Director General designate, International School of Geneva; author of: Education and Elitism and Understanding Prejudice and Education)
Mme Claude Jaeger (Graduate of the École normale supérieure; former Professeur de lettres in the Éducation nationale française; widow of Claude Jaeger, film producer, director and actor, Résistance leader during WW2 and Ecolint alumnus)
Prof. Dr. Joost Raessens (Chair of Media Theory, Utrecht University; author of: The Playful Citizen: Civic Engagement in a Mediatized Culture)
Prof. Marie-Claire Robic (Director of research at CNRS; former director of EHGO; author of: Géographes français en Seconde Guerre Mondiale and Deux siècles de géographie française : Une anthologie)
Mr. Alejandro Rodríguez-Giovo (Emeritus Foundation Archivist; former Head of English Department and Theory of Knowledge Department, International School of Geneva; former Assistant Professor of English, Webster University; former Assistant Professor of English, American College of Switzerland)
Mr. Philip Thomas (former Head of Department, Head of Studies and Interim Director General, International School of Geneva; former Chairman of the Standing Conference of Heads of IB Schools; former chairman, ISA International Education System Pilot Project; former Secretary of the IB Council of Foundation)
 
Would-be participants who were finally unable to come to Geneva, but have volunteered written contributions to the above-mentioned book:
Mr. Conan De Wilde (Director of Schools, H-FARM International School; former Vice Principal, International School of Geneva; co-author of: Ecolint: A History of the International School of Geneva)
Mr. Othman Hamayed (Former Head of the French Department, former Director of the Secondary School at La Grande Boissière and former Director of Education, International School of Geneva; co-author of: Ecolint: A History of the International School of Geneva)
Dr. Nicholas Tate, C.B.E. (Former Chief Executive of the Qualifications and Curriculum Authority, United Kingdom; former Headmaster of Winchester College; former Director General of the International School of Geneva; author of: What Is Education For? and The Conservative Case for Education)